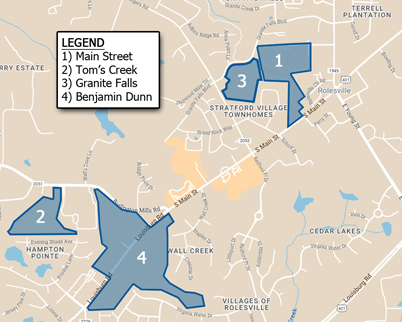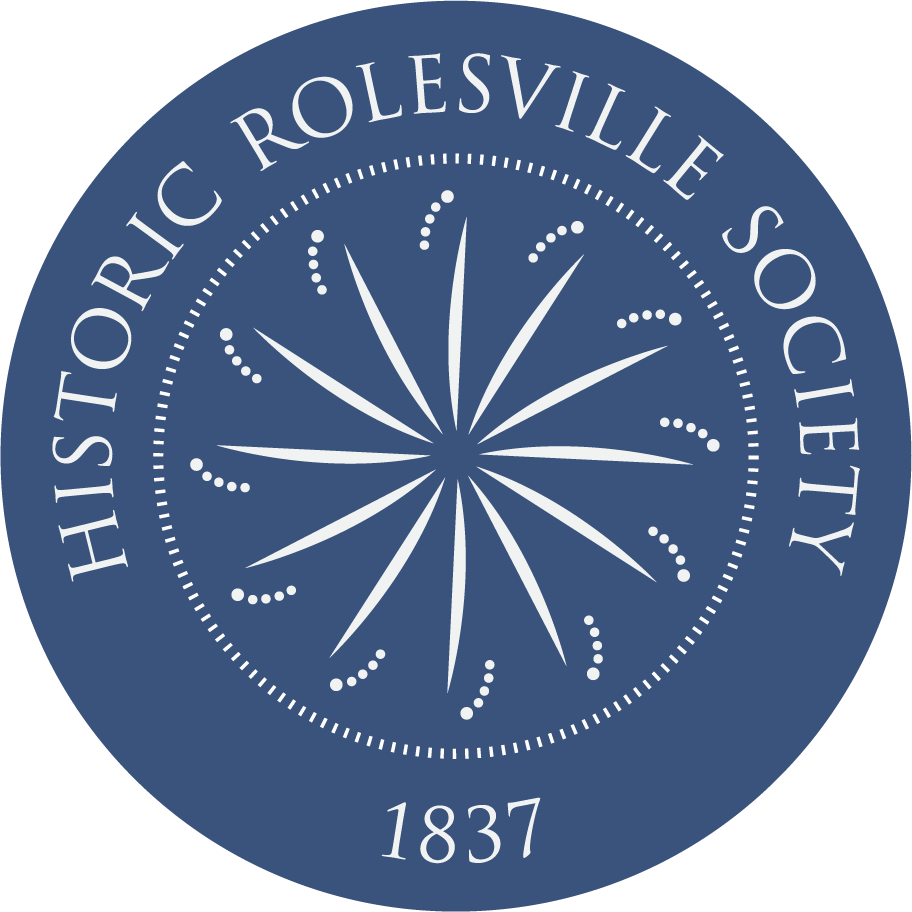 Exhibits/Presentations
The web site currently features four locations where the most significan findings were unearthed. In Main Street Park there were a variety of items found including a fire bullet from the Civil War era. The Tom's Creek location also had a variety of items but the most interesting were situated in a spot that suggests the rock nearby was used as a natural bench for working tools. Back toward and adjacant to the Main Street Park site is the Granite Falls site which included several Native American artifacts. Last but not least and, in fact the most recent site, is the Benjamin Dunn site where everything from arrowheads to shot gun shells were discovered.
Main Street Park
A metal detection permit was obtained from the Town of Rolesville in 2015, for researching and documenting local town history in Main Street Park. The metal detection survey led to many historical artifacts from the 19 th century. The site yielded Civil War period bullets, harmonica reeds, musketballs, buckles, glazenware, bottles, and an assortment of iron artifacts.
Significant Finds: Fired Civil War period bullets and musketballs, harmonica reed plates, cookware, horseshoes, plow blades, unique suspender buckle, bottles, and early machine gears/parts.
Tom's Creek
Tom's Creek site was initially discovered in 2011 during land purchase and development for the Rolesville Middle School property in Wake County. Mike Bailey first discovered a colonial knee buckle and shoe buckle frames at the site using a metal dectector. Thereafter, hundreds of artifacts were excavated along Tom's Creek, including colonial flat buttons, buckles, horseshoes, cookingware, utensils, musketballs, and cut copper artifacts. Several Native American artifacts were also surface collected and curated. Tom's Creek site was reported to the State of North Carolina, Archaeology Division, and was assigned a N.C. Archaeology site number.
Research into land grants and property deeds have led to the Spain Family name. David Thomas Spain (1732-1801), Thomas Spain (1763-1804), Frederick Spain (1734-1798), and Amelia Spain (1755-1798) are most probable direct correlation to hundreds of acres that encompassed Tom's Creek. "Thom's Creek" is mentioned as a landmark sector numerous times in late 18 th century and early 19 th century deeds, which leads to speculation of "Thom's Creek" being originally named by Thomas, after the family name.
Significant Finds: Colonial period knee-buckle, shoe buckle frames, brass and tombac flat buttons, brass thimble, brass jaw harp, disarticulated copper vessels, cowbell, utensils, musketballs, sword chape and tongue, cast iron cooking pot sherds, horseshoes, hand wrought nails, and an American minted coin dating to 1795.
Granite Falls
The Granite Falls site, possibly also known as the Hixey Barham Old Spring Site was known as a past historic and scenic area that was a popular picnic location throughout the 19 th century. A large granite outcrop with hand and foot holds ground into the stone exists, and overlooks the stream which runs over the granite, creating a sloping horizontal waterfall. This site was visited by Native Americans, as lithic debitage (stone flakes from spearpoint knapping) were observed.
The site was discovered in 2015 during a metal detection survey, and yielded artifacts dating to the late 18 th century and throughout the 19 th century. Archaeological evidence suggest that there was a cabin or homesite at the location, and evidence of a bloomery furnace, indicating blacksmithing was occurring onsite. Many colonial flat buttons from 1750- 1830, were discovered, along with a silver Spanish ½ Reale coin, and shoe buckle frame from the late 1700's. Cooking utensils, cookware, horseshoes, musketballs, and iron artifacts were recovered and curated.
Significant Finds: 18 th century silver Spanish ½ Reale coin, utilized as a decorative flat button, many early English imported flat brass and tombac buttons, utensils, horsehsoes, cookingware, hand wrought nails, an 1887 silver Seated Liberty coin, and a gold fob seal.
Benjamin Dunn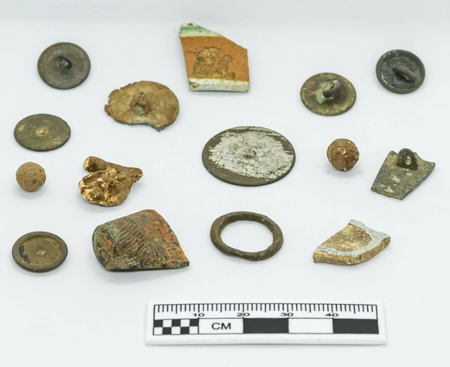 The "Benj Dunn" site was located in early 2023, due to development, permission was granted to metal detect the area to search for local historical remains and artifacts that would be lost to future grading of the land. Many historical finds were made along at the Benjamin Dunn homesite, which aligned with the original stage coach road along Highway 401 (North/South), according to an early map and approximate location on the wagon trail.
Late 18 th century and early 19 th century flat buttons, horseshoes, handwrought nails, cooking utenils, cookware, and iron artifacts were discovered and curated. Benjamin Dunn, was a Captain in a N.C. regiment that fought in the War of 1812.
Significant Finds: Gold and silver wash flat buttons dating from the late 18 th century to early 19th century, imported from England with quality backmarks, 18 th century Tombac flat buttons, a brass thimble, early imported "black glass" bottle fragments, utensils, cookingware, horseshoes, glazenware, and hand wrought nails.